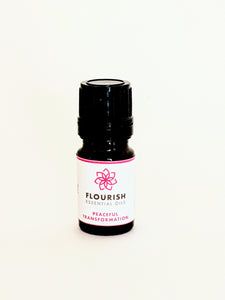 Supports meditative state, calm, peaceful mind.
Ingredients:  Sandalwood, Elemi, Palmarosa, Lavender, Rose
Use for calming the mind.  Great for diffuser.  Or apply 1 drop to palm of hand and rub hands together.  Inhale scent from cupped hands over nose for 3 minutes.  If you are a meditator you may apply/share 1 drop to third eye and/or crown, followed by carrier oil if necessary.  Rub hands together and inhale residue.  May also apply to heart center.  Use sparingly – very potent.  Some people use it as a personal scent.