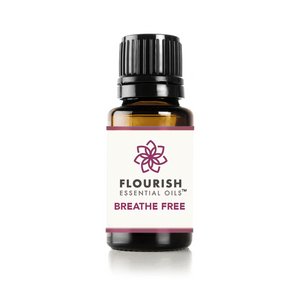 Supports clear breathing during seasonal difficulties.  Potent.

Ingredients: Scotch Pine, Ravensara, Eucalyptus Radiata, Eucalyptus Globulus,
Lavender, Khella, Oregano

Works very well by diffusing, or can inhale after applying drop in hand, rubbing hands together and placing hands over nose and inhaling aroma for 3 minutes.   
Very potent  May place up to 3 drops in bowl of hot water and inhale vapor with towel over your head, eyes closed to prevent eye irritation.  May use as a chest rub by using 5 drops per tablespoon of carrier oil for adults; 2-3 drops per tablespoon of carrier oil for children over 5 years old.  If skin irritation occurs, apply more carrier oil. 
Oil Blends are pesticide and pollutant free, undiluted and 5 ml,
hand-blended with love in Nellysford, VA!