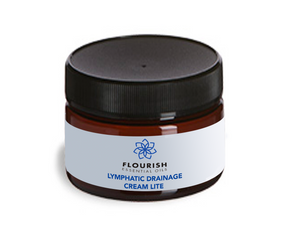 If you suffer from swelling due to surgery, injury, lifestyle, chronic condition or lymphatic drainage insufficiency and do not want to use Lymphatic Drainage Massage Oil this would be the choice for you. Because it is a lymphatic stimulant, it can be used as part of detoxification.  The cream is easily absorbed by the skin.  It is suitable for use by massage therapists for Manual Lymphatic Drainage using Vodder technique and in fact enhances  and prolongs the effects of Manual Lymphatic Drainage.  If you do not know the technique, no problem!  The essential oils in the cream do all the work of reducing swelling and thus, can be used at home by anyone experiencing swelling or in need of lymphatic drainage.  It is also suitable for wrapping and sleeves.  Keep in mind that a little goes a little goes a long way!  Apply directly to the afflicted area and  surrounding area.  For example, for a swollen knee you would apply to the front, back and sides of knee.  For swollen nodules under jaw accompanying sore throat, apply directly to swollen area, in front of and behind the nodules and down neck.  Rub in lightly and let it work.  In most cases swelling starts going down within 15 to 20 minutes.    Use as often as necessary, up to 6 times daily depending on severity.  4 oz.
Essential Oil Ingredients:
Grapefruit:  Lymphatic stimulant, tightens skin
Geranium:   Lymphatic stimulant, antiseptic, anti-inflammatory
Cypress:  Astringent, immune stimulant, circulatory stimulant
Ravensara:  Immune stimulant counters bacterial and viral infections, lymphatic stimulant
Cream Ingredients:  Aloe, castor oil, olive oil, jojoba,j glycerol stearate, cetaeryl alcohol, sodium stearoyl lactylate, glycerin, stearic acid, allantoin, oats, zinc oxide, kaolin clay, Vit. E acdetate, heal all extract, rosemary seed extract, silver citrate, leuconostoc, propanedial, ethylhexlglycercin and food grade potassium sorbate.
NOTE: DOES NOT PREVENT ILLNESS