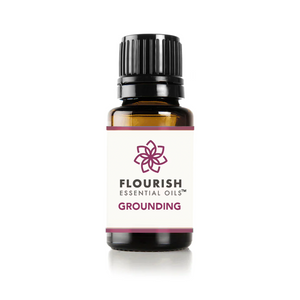 Supports calmness and a feeling of being centered and grounded. May help calm fear, nervousness, hysteria, feeling of not being able to think. Very calming. Useful for meditating as well.
Ingredients:  Lavender, Bergamot, Vetiver, Basil Linalool, Petitgrain
Apply/share one drop to inner wrists, solar plexus and/or bottom of feet.  Apply carrier oil if irritation occurs.  Inhale residue from hands for 3 minutes. Do not expose treated skin to direct sunlight for 12 hours after application as a rash will  occur due to the photosensitivity of bergamot.  

May be used as an alternative to Calm Kids.  Dilute properly for children – 3-5 drops per 2 Tablespoons of carrier oil  such as coconut oil, jojoba oil, almond oil, etc..
Oil Blends are pesticide and pollutant free, undiluted and 5 ml, hand-blended with love in Nellysford, VA!