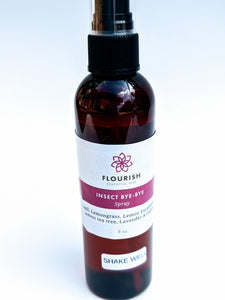 Wards off flying insects, particularly mosquitoes.
Ingredients:  Purified water, Basil Linalool, Lemongrass,Geranium, Lemon Eucalyptus, Lemon Tea Tree, Catnip, Lavender
4 oz  and 8 oz.
Soothes and refreshes the skin and smells good, too. Not greasy or sticky. People are saying that it soothes bites should you get bit before applying.  Does not contain DEET or citronella yet rivals the effectiveness of both.  This blend is high in geraniol and citronellol which are documented insect repellents.
SHAKE WELL with each use.  Spray liberally on body and clothes.  Re-apply as necessary.  For young children, spray only on clothes.  Do not use during pregnancy.
Oil Blends are pesticide and pollutant free, undiluted and 5 ml, hand-blended with love in Nellysford, VA!