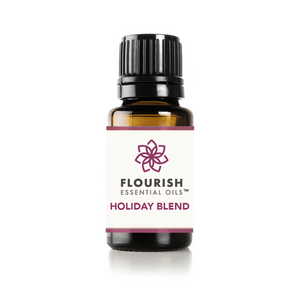 Bring in a festive mood for the change of the seasons while there still could be a slight chill in the air in the evening.  The orange essential oil is uplifting while the spice oils are warming, a combination which invokes the ambiance of a cheerful  gathering.    A bonus is that  the ingredients  are useful for supporting the immune system.  Ingredients:  Sweet Orange, Cinnamon, Clove & Allspice
If using topically, be sure to follow essential oil application with carrier oil as clove, cinnamon and allspice are potential skin irritants.  Do not expose treated skin to direct sunlight after application to skin for 12 hours as sunlight may cause rash due to orange essential oil.
Oil Blends are pesticide free, undiluted and 5 ml, hand-blended with love in the Blue Ridge Mountains.